Buttermilk Rusks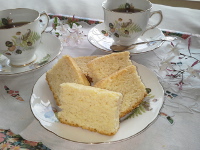 This recipe is very easy to make and this is the only rusks my husband eats!



Ingredients:


1½ kg Selfraising flour
5ml/1teaspoon salt
500g butter
2 eggs, lightly beaten
1¼ cups sugar
500ml/2 cups buttermilk

Method:
1. Sift the flour and salt together in a large bowl.
2. Rub the butter into the flour.
3. Add the sugar.
4. Mix the eggs and milk together.
5. Add it to the flour mixture.
6. Mix well until 'n firm dough forms.
7. Divide the dough into to prepared baking sheets (lined with baking paper or rubbed with butter/oil). Bake at 180°C for 40-50 minutes.
8. Dry out in oven at about 80-90°C for 4-6 hours.