All Bran Rusks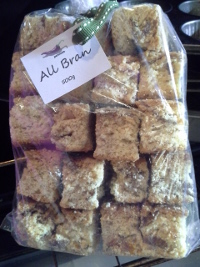 My favourite!



Ingredients:


300g butter
250ml/1cup oil
1¼cups sugar
2 eggs, lightly beaten
500ml/2 cups buttermilk
1kg Selfraising flour
1¼ cups nutty wheat
5ml/1teaspoon salt
10ml/2 teaspoons baking powder
3cups All Bran flakes


Method:
1. In a large pot melt the butter and add the oil and sugar. Beat well.
2. Add eegs one by one, then add buttermilk.
3. Add the flour, nutty wheat, salt and baking powder.
4. Mix well with wooden spoon, then add the all bran flakes.
5. Divide the dough into to prepared baking sheets (rubbed with butter/oil). Bake at 180°C for 40-50 minutes.
6. Dry out in oven at about 80-90°C for 4-6 hours.